The AND-APL1E1/E2 is a new ultra-compact network box with a 155 x 92 x 32 mm tiny size dimension. It is powered by Intel® N3350 SoC and designed to be easy to deploy in home offices, small businesses, and branch offices as well.
Make your request now: https://www.acrosser.com/en/Contact/Inquiry
Even though AND-APL1E1/E2 is such a small network box, Acorsser still designs it as a durable, reliable network appliance. It is definitely a good choice for budget buyers and ideal for deployment as a VPN, Firewall, SD-WAN, NAC, or vCPE in any environment with a limited budget.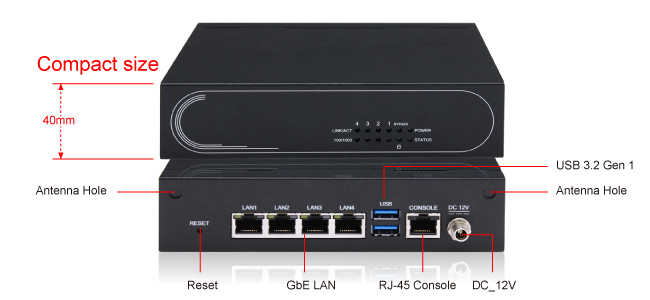 The Major Specifications of Acrosser AND-APL1E1/E2
-Intel® Apollo Lake Celeron N3350, Atom E3940
-Onboard 2GB LPDDR4 memory, Optional 1x SO-DIMM slot
-4 x GbE, 2 x USB 3.2 Gen1
-1 x Mini PCIe Expansion
-1 x 2.5″ SATA 3 bay, Onboard 8GB eMMC
Acrosser is 100% committed to providing its OEM/ ODM/ JDM and end-user clientele with high-quality innovative networking appliances and embedded computer solutions for shorter time-to-market and in achieving higher competence to win business opportunities in the marketplace. For more information, please visit: https://www.acrosser.com/en/Contact/Inquiry
Networking Appliance, network appliances, Microbox Network, Network Server Hardware, Microbox Network, 1U/2U rackmount servers , SD-WAN hardware solution, SD-WAN,