With the move to Electronic Medical Records (EMR), hospitals now implement increasingly complex wireless network infrastructures for their medical staff.  Data from medical devices and patients can be seamlessly stored to a cloud datacenter through wireless networks. This setup allows hospitals to reduce costs, increase staff efficiencies and improve patient outcomes through continuous monitoring.

Acrosser Technology recently introduced a new micro box network appliance, the AND-J180/J190. At only 234.6 x 151.4 x 43.5 mm, its small size allows it to be stored anywhere in the hospital without taking up space used by other important medical equipment. AND-J180/J190 utilizes the Intel Bay Trail J1800/1900 System on Chip (SoC), and provides serious performance at an attractive price. AND-J180/J190 also comes with up to six gigabit RJ-45 Ethernet LAN ports to link up with networking devices around the hospital.  It has 3 pairs of LAN ports (up to two of which are capable of LAN-Bypass) allowing uninterrupted network traffic. In addition, the unit has a mini-PCIe expansion slot for Wi-Fi Module that supports the latest 802.11ac standard.
Connection with peripheral devices can be done via two USB 2.0 ports, one USB 3.0 port, and a VGA port for digital signage applications. Combining compact size, comprehensive I/O, and a powerful Intel processor, AND-J180/J190 is the ideal solution for managing network traffic in the hospital setting.

Benefits:
Compact Design
The small form factor micro box is ideally suited for space-constrained environments such as patient rooms and nursing stations
Wireless Connectivity
AND-J180/J190 supports 802.11ac with compatible WiFi modules. In addition, the unit can be used with two antennae for better signal, wider reach, and more robust coverage.
Low Power Consumption
Use of the low power J1800/1900 Intel processor with low Thermal Design Power (TDP), helps to reduce power costs for hospitals.
LAN Bypass
LAN Bypass allows continued network operation even if another unit were to shut down. This creates greater reliability and uninterrupted network traffic to mission-critical medical equipment.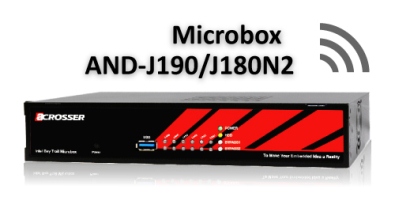 Featured Product
AND-J180/J190
◎Compact x86 Network Appliance with Intel Bay Trail Platform (J1800/J1900)
◎Microbox form factor
◎J1800/J1900 CPU
◎1 x DDR3L SODIMM memory up to 8GB
◎6x RJ-45 GbE LAN ports
◎1x USB 3.0
◎2x USB 2.0
◎1x CF card slot
◎1x mini-PCIe for Wi-Fi connectivity
◎2x antenna holes
Contact Us:
www.acrosser.com
Receive a product quote RIGHT NOW!
http://www.acrosser.com/inquiry.html
Product Information:
Networking Appliance: http://www.acrosser.com/Products/Networking-Appliance.html
Subscribe to our social media sites and stay connected!
Acrosser Twitter
Acrosser Facebook
Acrosser Linkedin
Acrosser Google+
Acrosser Youtube
industrial pc, industrial computer, Rackmount server, Embedded single board computer, in cab computer,