Today, Acrosser Technology announced its fan-less ISA Half-Size single board computer, AMB-VDX3H1, based upon the ultra-low-power Vortex86DX3 processor with wired networking capability.
Acrosser AMB-VDX3H1 is a fan-less ISA Half-Size SBC with PC/104 & ISA Interface featuring the latest generation DM&P® Vortex86DX3® SOC processor with Onboard DDR3 512MB to 1GB SDRAM and 1 xRJ45 10/100 Mbps LAN.
The AMB-VDX3H1 offers full and legacy ISA bus following PC/104 2.6 specifications, and supports IDE, SATA and CF card storage. The SBC is equipped with VGA(DB15) along  with 4 USB 2.0 ports, two RS-232/422/485 serial ports, and two RS232 serial ports. There's also 1 PS/2 port, 1 JST connector, 1 PC/104 Expansion Slot and 1 ISA golden finger.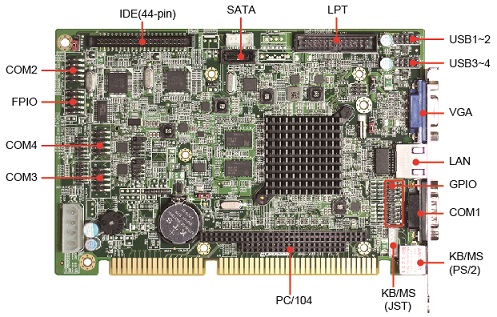 Specifications for the AMB-VDX3H1 include:
• Onboard DM&P Vortex86DX3 600MHz 1GHz dual-core
• Onboard 512MB / 1GB DDR3 SDRAM
• PC/104 & ISA Interface
• 4 x COM, 4 x USB 2.0, VGA, 1 xRJ45 10/100 Mbps LAN
• IDE, CF, SATA storage.
• Operating Temp. 0~60oC (32 ~140oF)
Acrosser AMB-VDX3H1 is a fan-less, small size, low power, rugged-design single board computer which is the best solution for embedded systems in the industrial control, industrial automation, factory automation, transportation, Mil/COTS, telecommunication, instrumentation, CNC machines, MMI, HMI(Human Machine Interface), CTI (Computer Telephony Integration) and machine tools applications.
To obtain more information about this powerful fan-less ISA Half-Size single-board computer, you can go to Acrosser official YouTube channel to see the new product introduction video of Acrosser AMB-VDX3H1.
https://www.youtube.com/watch?v=DjY2zneU8W0
For more information about AMB-VDX3H1. please go to our online inquiry system:http://www.acrosser.com/inquiry.html
About Acrosser Technology Co.
Headquartered in New Taipei City, Taiwan, with four (4) offices in China and one (1) in the USA in Cypress, California, Acrosser is a leading manufacturer of a wide range of COTS (commercial-off-the shelf) hardware technology products: all-in-one HMI industrial panel PCs, monitors, and embedded computers; single board computers (SBC), ruggedized in-vehicle computers with internal CANbus, and network appliances. Established in 1987, Acrosser offers twenty-nine (29) solid years of expertise in the fields of industrial automation and control, digital visualization in the modern workplace environment; embedded computing solutions for vertical markets such as healthcare, transportation, and gaming; as well as network security and unified threat management (UTM). The company prides itself with a roster of high quality technology products it manufactures for its own branding, as well as custom solutions for major OEM/ODM/JDM projects. Through the years, the company had built a strong in-depth engineering design base, diverse board fabrication capabilities, flexible system integration, and production. Acrosser's non-stop the pursuit of excellence in quality and customer satisfaction has resulted in the company meeting various industrial standards and certifications such as: ISO9001/ CE/ FCC and UL Furthermore, Acrosser had established an MRPII program that manages materials and resources leading to higher production efficiencies. Acrosser manufacturing centers utilize a world-class customer-driven ERP system to achieve high flexibility and real-time response.
Acrosser, is 100% committed to providing its OEM/ ODM/ JDM and end-user clientele with high-quality innovative embedded computer solutions and networking appliances for shorter time-to-market and in achieving higher competence to win business opportunities in the market place. For more information, please visit: www.acrosser.com
Subscribe to our social media sites and stay connected!
Please visit us @ the following social media sites:
Acrosser Twitter
Acrosser Youtube
#Fanless Panel PC #Touch Screen PC #Stainless Panel PC #Panel Computers
single board computer, industrial embedded motherboard, UTM appliance, Embedded system boards, In-Vehicle Touch monitor,